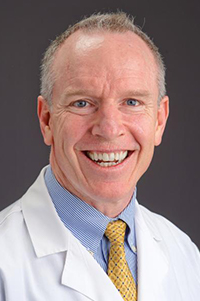 Kevin Staveley-O'Carroll
Hugh E. Stephenson Professor of Surgery
Surgery

,
Research Emphasis
Dr. Staveley-O'Carroll has a broad background in all phases of therapy development and implementation: leading multidisciplinary cancer-care teams, leading large National Cancer Institute and VA Grants with multiple investigators, and leading investigator-initiated clinical trials. His clinical expertise is focused on liver, pancreas, and foregut tumors, and his research and therapy-development activities center around enhancing the immune response to these tumors.
Research Interests
Developing new cancer treatments
Investigating immunotherapeutic, chemotherapeutic, and nanoparticle agents in a variety of cancers
Education
PhD 2000, Pharmacology and Molecular Biology, The Johns Hopkins University School of Medicine
MD 1990, University of Oklahoma College of Medicine
BS 1986, Chemistry, University of Notre Dame
Selected Publications
Manjunath Y, Porciani D, Mitc hem JB, Suvilesh KN, Avella DM, Kimchi ET, Staveley-O'Carroll KF, Burke DH, Li G, Kaifi JT. Tumor-Cell-Macrophage Fusion Cells as Liquid Biomarkers and Tumor Enhancers in Cancer, Int J Mol Sci. 2020 Mar 9; 21(5):1872. doi: 10.3390/ijms21051872. PMID: 32182935. PMCID: PMC7084898.
Tang R, Wang YC, Mei X, Shi N, Sun C, Ran R, Zang G, Li W, Staveley-O'Carroll KF, Li G, Chen SY. LncRNA GAS5 attenuates fibroblast activation through inhibiting Smad3 signaling, Am J Physiol Cell Physiol. 2020 Jul 1; 319(1): C105-C115. doi: 10.1152/ajpcell.00059.2020. Epub 2020 May 6. PMID: 32374674.
Manjunath Y, Mitchem JB, Suvilesh KN, Avella DM, Kimch ET, Staveley-O'Carroll KF, Deroche CV, Pantel K, Li G, Kaifi JT. Circulating Giant Tumor-Marcrophage Fusion Cells are Independent Prognosticators in Patients with NSCLC, Thorac Oncol. 2020 May 13: S1556-0864(20)30381-6. doi: 10.1016/j.tho.2020.04.034. Online ahead of print. PMID: 32416323
Avella DM, Manjunath Y, Singh A, Deroche CB, Kimchi ET, Staveley-O'Carroll KF, Mitchem JB, Kwon E, Li G, Kaifi JT. 18F-FDG PET/CT total lesion glycolysis is associated with circulating tumor cell counts in patients with stage I to IIIA non-small cell lung cancer. Transl Lung Cancer Res. 2020 Jun;9(3):515-521. doi: 10.21037/tlcr.2020.04.10. PMID: 32676315
 Xiaoqiang Qi, Ming Yang, Lixin Ma, Madeline Sauer, Diego Avella, Jussuf T. Kaifi, Jeffrey Bryan, Kun Cheng, Kevin F. Staveley-O'Carroll, Eric T. Kimchi, Guangfu Li, Synergizing sunitinib and radiofrequency ablation to treat hepatocellular cancer by triggering the antitumor immune response, Journal for ImmunoTherapy of Cancer, 2020; 8: e001038. doi:10.1136/jitc-2020-001038
Xiaoqiang Qi, Ming Yang, Joseph Stenberg, Rahul Dey, Leslie Fogwe, Muhammad Shawkat Alam, Eric T Kimchi, Kevin F Staveley-O'Carroll and Guangfu Li, Gut microbiota mediated molecular events and therapy in liver diseases, World Journal of Gastroenterology, 2020, 26 (48): 7603-7618. doi: 3748/wjg.v26.i48.7603
Yuanke Li, Zhen Zhao, Chien-Yu Lin, Yanli Liu, Kevin F. Staveley-OCarroll, Guangfu Li, Kun Cheng. Silencing PCBP2 Normalizes Desmoplastic Stroma and Improves the Antitumor Activity of Chemotherapy in Pancreatic Cancer. 2021,11(5):2182-2200
Cho J, Kinsey D, Kimchi ET, O'Carroll KS, Nguyen V, Alsabbagh M, Gaballah A. Retroperitoneal extra-adrenal myelolipoma misdiagnosed as liposarcoma: A case report. Radiol Case Rep. 2020 Dec 5;16(2):364-368. doi: 10.1016/j.radcr.2020.11.045. eCollection 2021 Feb.
Alan Lu, Junsang Cho, Maryna Vazmitzel, Lester Layfield, Kevin Staveley-O'Carroll, Ayman Gaballah, Deepthi Rao. High-grade appendiceal mucinous neoplasm presenting as a giant appendiceal mucocele. Radiol Case Rep. 2021 Feb 24;16(5):1051-1056. doi: 10.1016/j.radcr.2021.02.014.