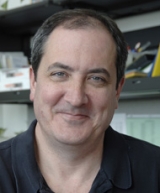 John C. Walker
Curators Professor and Director Division of Biological Sciences
Biological Sciences

,

Plant Sciences

,
Research interest
Molecular mechanisms regulating cellular signaling in plants
Education
Ph.D., 1985, University of Georgia
B.S., 1979, Arizona State University
Selected publications
Niederhuth, CE, Cho, SK, Seitz, K, Walker, JC ( 2013) Letting go is never easy: Abscission and receptor‐like protein kinases. J. Integr. Plant Biol. 55( 12): 1251– 1263.
Taylor, I., Seitz, K., Bennewitz, S. et al. A simple in vitro method to measure autophosphorylation of protein kinases. Plant Methods 9, 22 (2013) doi:10.1186/1746-4811-9-22
Niederhuth, C.E., Patharkar, O.R. & Walker, J.C. Transcriptional profiling of the Arabidopsis abscission mutant hae hsl2by RNA-Seq. BMC Genomics 14, 37 (2013) doi:10.1186/1471-2164-14-37
Xiangzong Meng, Huachun Wang, Yunxia He, Yidong Liu, John C. Walker, Keiko U. Torii, Shuqun Zhang. A MAPK Cascade Downstream of ERECTA Receptor-Like Protein Kinase Regulates Arabidopsis Inflorescence Architecture by Promoting Localized Cell Proliferation. The Plant Cell Dec 2012, 24 (12) 4948-4960; DOI: 10.1105/tpc.112.104695