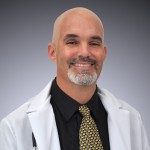 Jeffrey N. Bryan
Professor of Oncology
Veterinary Medicine & Surgery

,
Research interests
Dr. Bryan's research focuses on comparative examination of cancers in companion animals to better understand cancers in all species. Bryan is an associate professor of veterinary oncology and director of the Comparative Oncology and Epigenetics Laboratory. His particular areas of interest are targeted imaging and therapy and epigenetics of cancer. Targeted imaging and therapy agents take advantage of particular properties of cancer to deliver an imaging or therapy payload to tumors. Bryan is leading research projects studying an immunotherapy agent targeted to the low-oxygen environment of cancer, an herbal derivative that targets iron in tumors, and a nanoparticle chemotherapy targeted to the lymphatic drainage of cancer. The agents under evaluation are destined for use in both dogs and humans to treat lymphomas as well as solid tumors like sarcomas, head and neck cancer, and breast cancer. Each of these trials is designed to develop an approach that is less toxic and more effective than our current cancer treatments. Epigenetics is the study of mechanisms that change expression of genes critical to cell growth without changing the DNA sequence by mutation. DNA methylation can cause the complete silencing of genes that act as brakes on cell division without any mutation to the gene itself. Unlike mutations, which are permanent changes to the DNA, methylation can be reversed, and the gene can function again, putting the brakes back on cell growth. Dr. Bryan and his team are investigating epigenetic causes and contributions to animal cancers to assist in identifying the most biologically relevant changes in human cancers by comparison.
Education
B.S. University of California, Davis
D.V.M. University of California, Davis
M.S. University of Missouri
Ph.D. University of Missouri
Selected publications
Selting KA, Bechtel SM, Espinosa J, Henry CJ, Tate D, Bryan JN, Rajewski L, Flesner BK, Decedue C, Baltezor M..  Evaluation of intravenous and subcutaneous administration of a novel, excipient-free, nanoparticulate formulation of paclitaxel in dogs with spontaneously-occurring neoplasia.  Vet Comp Oncol.  2018 Sep 4. doi: 10.1111/vco.12435. [Epub ahead of print]
Menard K, Flesner BK, Glahn A, Boudreaux B, Bryan JN.  Concurrent 5-fluorouracil and Carboplatin for the Treatment of Canine Carcinomas.  Vet Comp Oncol.  In Press 2018
Kumar SR, Bryan JN, Eaton A, Robinson K, Gajagowni S.  Differential modulation of transcription factors and cytoskeletal proteins in prostate carcinoma cells by a bacterial lactone.  BioMed Res. Int.  2018;2018:6430504.  doi: 10.1155/2018/6430504.
Henry CJ, Flesner BK, Bechtel SA, Bryan JN, Tate DJ, Selting KA, Lattimer JC, Bryan ME, Grubb L, Hausheer F. Clinical Evaluation of Tavocept to Decrease Diuresis Time and Volume in Dogs with Bladder Cancer Receiving Cisplatin. J Vet Intern Med. 2018; 32:370-376. doi: 10.1111/jvim.14848.
DeClue AE, Axiak-Bechtel SM, Zhang Y, Saha S, Zhang L, Tung D, Bryan JN.  Immune Response to C. novyi-NT Immunotherapy.  Vet Res.  2018;49:38. doi: 10.1186/s13567-018-0531-0.
DeClue AE, Axiak-Bechtel SM, Zhang Y, Saha S, Zhang L, Tung D, Tate DJ, Bryan JN.  Identification of immunologic and clinical characteristics that predict inflammatory response to C. novyi-NT bacteriolytic immunotherapy.  BMC Vet Res.  2018;14:119.  doi: 10.1186/s12917-018-1424-1.
Kumar SR, Taylor KH, Bryan JN, Eaton AM.  RNA methylation in lymphoid malignancies.  RNA and Disease.  2017;4:e1563. doi:10.14800/rd.1563
Bryan JN, Lattimer JC, Jia F, Caldwell CW, Villamil JA, Selting KA, Henry CJ, and Lewis MR Scintigraphic Imaging of B-cell Lymphoma in Three Dogs Using a Radio-labeled Somatostatin Analogue.  J Vet Sci Med Diagn 2017:6;1. doi: 10.4172/2325-9590.1000220 Corresponding Author
Grobman M, Cohn L, Knapp S, Bryan JN, Reinero C.  18F-FDG-PET/CT As Adjunctive Diagnostic Modalities In Canine Fever Of Unknown Origin.  Vet Rad Ultrasound.  2018; 59:107-115. doi: 10.1111/vru.12562.
Bryan JN.  The current state of clinical application of serum biomarkers for canine lymphoma.  Frontiers in Veterinary Science.  2016; 3: 87. Doi: 10.3389/fvts.2016.00087 Invited Review