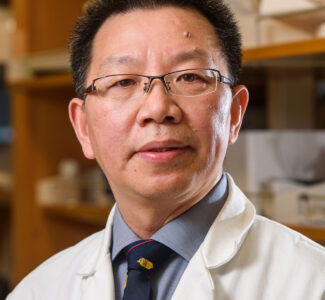 Guangfu Li
Molecular Microbiology & Immunology

,
Assistant Professor of Surgery
573-882-7124
Research Emphasis: Dr. Guangfu Li is studying liver fibrosis, liver cancer, pancreatic cancer and lung cancer. Using cells, animal models and human biopsies, Dr. Li focuses on elucidating the underlying mechanisms mediating fibrosis, tumor growth and metastasis and tumor-induced immune tolerance. Based on the findings, Dr. Li aims to develop effective molecularly targeted diagnosis, molecularly targeted therapy and immunotherapy.
Research Interests
Mechanisms of tumor growth, tumor metastasis and tumor‐induced immunotolerance
Gut microbiome and liver disease
Immune‐based antitumor therapy
Molecularly targeted therapy
Molecularly targeted diagnosis
Tumor animal model Circulating tumor cell (CTC) Circulating tumor DNA (ctDNA)
Education
Ph.D. 2004, Nanjing Medical University, Nanjing China
Publications