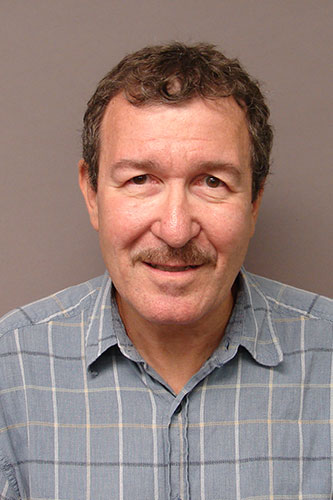 Gary Weisman
Curators Distinguished Professor of Biochemistry
Biochemistry

,
Research interest
Nucleotide receptors and signaling in inflammation, cardiovascular and autoimmune exocrine disease.
Research description
Nucleotide receptors (P2 receptors) are present in nearly all cells and tissues where they mediate diverse functions including the regulation of platelet aggregation, muscle contraction, neurotransmission, insulin secretion, epithelial ion transport, wound healing and cell growth. We have isolated the first human P2 receptor gene and expressed it in mammalian cell lines that normally lack this receptor. These expression systems have enabled us to identify and purify the P2 receptor protein and current research is directed towards investigating structural features of the receptor that affect its functions. We have cloned or obtained 11 different P2 receptor subtypes belonging to 2 different receptor superfamilies and we are investigating the mechanisms of receptor activation, desensitization, and signal transduction in a variety of tissues in relation to normal physiological functions and disease.
We have undertaken efforts to determine the molecular mechanisms whereby activation of P2 receptors can be employed for the treatment of human disease. Studies are directed towards: 1) determining the intracellular pathways that enable P2 receptors to promote chloride secretion in cystic fibrosis (CF) epithelium to effectively bypass the genetic defect in chloride transport that underlies CF; 2) investigating the integrin-like properties of P2 receptors in the cardiovascular system in relation to the effects of extracellular nucleotides on platelet aggregation, vasorelaxation and contraction, atherogenesis and inflammatory responses mediated by monocyte adherence to endothelium, responses that are associated with the early stages of atherosclerosis and diabetes; 3) understanding the role of P2 receptors in neuronal apoptosis and reactive astrogliosis associated with Alzheimer's and other neurodegenerative diseases; 4) determining the role of nucleotide receptors in salivary gland inflammation and regeneration to design better treatments for Sjögren's syndrome; and 5) identifying the molecular mechanisms whereby dietary nutriceuticals prevent disease. Our laboratory possesses the relevant molecular reagents and cell systems needed to progress these projects and participating graduate students gain experience in a variety of techniques in molecular and cell biology.
Education
B.S., Chemistry / Pre-medicine, Polytechnic Institute of Brooklyn
Ph.D., Chemistry, University of Nebraska
Selected publications
Gilman KE, Camden JM, Klein RR, Zhang Q, Weisman GA, Limesand KH. (2019). P2X7 receptor deletion suppresses γ-radiation-induced hyposalivation. Am J Physiol Regul Integr Comp Physiol. 316(5):R687-R696. doi: 10.1152/ajpregu.00192.2018. [PubMed]
Shanbhag V, Jasmer-McDonald K, Zhu S, Martin AL, Gudekar N, Khan A, Ladomersky E, Singh K, Weisman GA, Petris MJ. (2019). ATP7A delivers copper to the lysyl oxidase family of enzymes and promotes tumorigenesis and metastasis. Proc Natl Acad Sci U S A. 116(14):6836-6841. doi: 10.1073/pnas.1817473116. [PubMed]
Voynova E, Mahmoud T, Woods LT, Weisman GA, Ettinger R, Braley-Mullen H. (2018). Requirement for CD40/CD40L Interactions for Development of Autoimmunity Differs Depending on Specific Checkpoint and Costimulatory Pathways. Immunohorizons. 2(1):54-66. doi: 10.4049/immunohorizons.1700069. [PubMed]
Erb L, Woods LT, Khalafalla MG, Weisman GA. (2019). Purinergic signaling in Alzheimer's disease. Brain Res Bull. 151:25-37. doi: 10.1016/j.brainresbull.2018.10.014. Review. [PubMed]
Woods LT, Camden JM, Khalafalla MG, Petris MJ, Erb L, Ambrus JL Jr, Weisman GA. (2018). P2Y(2) R deletion ameliorates sialadenitis in IL-14α-transgenic mice. Oral Dis. 24(5):761-771. doi: 10.1111/odi.12823. [PubMed]
Khalafalla MG, Woods LT, Camden JM, Khan AA, Limesand KH, Petris MJ, Erb L, Weisman GA. (2017). P2X7 receptor antagonism prevents IL-1β release from salivary epithelial cells and reduces inflammation in a mouse model of autoimmune exocrinopathy. J Biol Chem. 292(40):16626-16637. doi: 10.1074/jbc.M117.790741. [PubMed]
Dissmore T, Seye CI, Medeiros DM, Weisman GA, Bradford B, Mamedova L. (2016). The P2Y2 receptor mediates uptake of matrix-retained and aggregated low density lipoprotein in primary vascular smooth muscle cells. Atherosclerosis. 252:128-135. doi: 10.1016/j.atherosclerosis.2016.07.927. [PubMed]
Ajit D, Simonyi A, Li R, Chen Z, Hannink M, Fritsche KL, Mossine VV, Smith RE, Dobbs TK, Luo R, Folk WR, Gu Z, Lubahn DB, Weisman GA, Sun GY. (2016). Phytochemicals and botanical extracts regulate NF-κB and Nrf2/ARE reporter activities in DI TNC1 astrocytes. Neurochem Int. 97:49-56. doi: 10.1016/j.neuint.2016.05.004. [PubMed]
Woods LT, Ajit D, Camden JM, Erb L, Weisman GA. (2016). Purinergic receptors as potential therapeutic targets in Alzheimer's disease. Neuropharmacology. 104:169-79. doi: 10.1016/j.neuropharm.2015.10.031. Review. [PubMed]
Seye CI, Kong Q, Yu N, Gonzalez FA, Erb L, Weisman GA. (2015). Erratum to: P2 receptors in atherosclerosis and postangioplasty restenosis. Purinergic Signal. 11(3):409. doi: 10.1007/s11302-015-9461-8. [PubMed]
Woods LT, Camden JM, El-Sayed FG, Khalafalla MG, Petris MJ, Erb L, Weisman GA. (2015). Increased Expression of TGF-β Signaling Components in a Mouse Model of Fibrosis Induced by Submandibular Gland Duct Ligation. PLoS One. 10(5):e0123641. doi: 10.1371/journal.pone.0123641. eCollection 2015. [PubMed]
Erb L, Cao C, Ajit D, Weisman GA. (2015). P2Y receptors in Alzheimer's disease. Biol Cell. 107(1):1-21. doi: 10.1111/boc.201400043. Review. [PubMed]