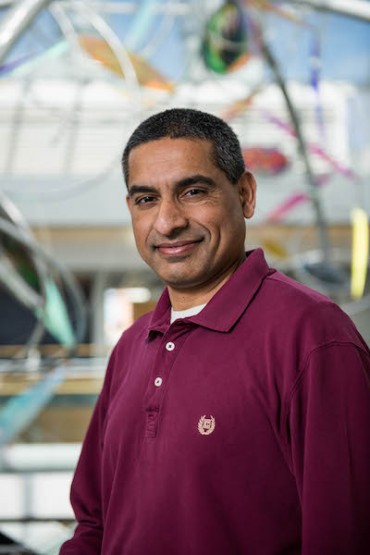 Anand Chandrasekhar
Professor of Biological Sciences
Biological Sciences

,
Research Interest
Researching with mice and zebrafish, he studies mechanisms involved in the development of the nervous system. He is particularly interested in the development of cranial motor neurons, which are groups of cells controlling the movement of various muscles in the vertebrate head such as the eyes and the jaw. Using cell biology and genetic knockout methods, his lab is currently focused on deciphering the mechanisms regulating the migration of these neurons, and how they organize to establish functional neuronal circuits. These studies will provide insight into the underlying causes of neural tube defects such as spina bifida, and of human neuronal migration disorders, such as lissencephaly, also known as "smooth brain" disorder.
Education
Ph.D., Biology, University of Iowa, 1994
M.Sc., Biology, Birla Institute of Technology and Science (BITS), Pilani, India, 1987
B. Tech., Electrical Engineering, BITS, 1987
Recent publications
Gurung, S., Asante, E., Hummel, D., Williams, A., Feldman-Schultz, O., Halloran, M., Sittaramane, V. and Chandrasekhar, A., (2018) Distinct roles for the cell adhesion molecule Contactin2 in the development and function of neural circuits in zebrafish.  Mechanisms of Development : 152: 1-12.
Kassim, Y. M., Al-Shakarji, N. M., Asante, E., Chandrasekhar, A. and Palaniappan, K., (2018)  Dissecting branchiomotor neuron circuits in zebrafish – Toward high-throughput automated analysis of jaw movements.  IEEE International Symposium on Biomedical Imaging (ISBI): 943-947.
Chandrasekhar, A., Guo, S., Masai, I., Nicolson, T. and Wu, C-F., (2017)  Zebrafish:  from genes and neurons to circuits, behavior and disease.  Journal of Neurogenetics : 31: 59-60.
Allen, J., Bhattacharyya, K., Asante, E., Almadi, B., Davis, J., Schafer, K., Cox, J., Voigt, M., Viator, J. and Chandrasekhar, A., (2017)  Role of branchiomotor neurons in controlling food intake of zebrafish larvae.  Journal of Neurogenetics : 31: 128-137.
Glasco, D. M., Pike, W., Qu, Y., Reustle, L., Misra, K., Di Bonito, M, Studer, M., Fritzsch, B., Goffinet, A., Tissir, F. and Chandrasekhar, A., (2016)  The atypical cadherin Celsr1 functions non-cell autonomously to block rostral migration of facial branchiomotor neurons in mice.  Developmental Biology : 417: 40-49.
Roszko, I., Sepich, D. S., Jessen, J. R., Chandrasekhar, A. and Solnica-Krezel, L., (2015)  A dynamic intracellular distribution of Vangl2 accompanies cell polarization during zebrafish gastrulation.  Development : 142: 2508-2520.
Bhattacharyya, K., Eshein, A., Chandrasekhar, A. and Viator, J.  (2015)  Quantitative photoacoustics to measure single cell melanin production and nanoparticle attachment.  Physics in Medicine and Biology : 60: 3081-3096.